Asjha Jones was a Forward for the UConn Huskies from 1998 – 2002. She was a member of two National Collegiate Athletic Association (NCAA) Championship Teams in 2000 and 2002, and was a three year Big East Academic All-American. She ranks 11th on UConn's all-time scoring list with 1,502, 5th all time in blocks with 151 and 9th in rebounds with 794. Asjha was the 4th draft pick in the Women's National Basketball Association (WNBA) Draft in 2002 to the Washington Mystics, and is currently playing for the Connecticut Sun.
Asjha remembers receiving her first basketball when she was about three years old from her cousin's husband, Barry. "He would take me to the park and I would play. When it was time for me to go home, he had to pick me up and put me on his shoulder to get me to go home. You could hear me screaming that I didn't want to go, the whole way home."
While in ninth grade, Asjha's basketball skills were getting noticed by people in the greater basketball world. Amateur Athletic Association (AAU) Coach Rich Leary from New Jersey only coached boys' teams, but once he met Asjha, and recognized her talent, he put together a team of girls so he could have the opportunity to coach and teach her. "Coach Leary kind of transferred my game, and made me the versatile player I am. He took me to new levels, and that's when I knew I really would be a good player." While at Piscataway Township High School, Asjha was named Parade, USA Today and Street and Smith First Team All-American. She set a school scoring record with 2,266 points and was invited to the 1998 Women's Basketball Coaches Association (WBCA) All-America Game. During her junior year of high school her team won the State Championship.
The college recruiting process was difficult for Asjha. "I don't like all the attention. I was in New Jersey minding my business, I had no idea what was really going on, how good I was or how I was being ranked. I don't really care about any of that so to start getting all kinds of attention was kind of mind-blowing to me. I had no idea what the recruiting process would be like before it started." Asjha didn't remember how many letters she received but summed it up as too many. She narrowed her choices to the University of Kentucky, University of Virginia, University of North Carolina, and the University of Connecticut, deciding of course on UConn.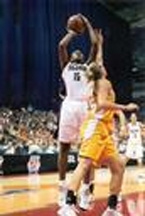 When Asjha arrived at UConn she found the transition from high school to college difficult. "It takes me awhile to figure out how I fit into any situation, and how I want to attack things." While at UConn Asjha broke UConn's record for all time games played with 144. As a senior she was named UConn Club Outstanding Senior Scholar-Athlete, and was named to several All-Tournament teams throughout her four years. In addition to the highlights of winning two National Championships, Asjha really enjoyed the family atmosphere that was created between herself, her teammates, and her coaches.
"You learn from your first practice at UConn about pressure, and how to deal with it. The first NCAA Championship was good but that was more for the seniors, Svet (Abrosimova) and Shea's (Ralph) Championship. By my senior year our team was very balanced with four or five players scoring an average of 14 points per game. We were dominating each game, and were pretty much pros, the way we went about things."
Asjha was drafted #4 in the Women's Basketball Association Draft in 2002 by the Washington Mystics. In her second year in the WNBA, Asjha finished in the top 20 in goals-per-40-minutes. During her third season she was traded to the Connecticut Sun where she reached 1,000 points and 400 rebounds for her career. Asjha has become one of the premier sixth women (first off the bench) in the WNBA over the last few years with 2006 being the best season of her career. It only got better in 2007 as Asjha had a breakout season in her first year as a full time starter. Asjha has been busy during the off season of the WNBA playing in Italy, China and most recently in Russia.
When asked about her thoughts on her former UConn Coach Auriemma, Asjha said, "He's a perfectionist. Generally he would nitpick and get personal. Whatever approach he thought would work with you he'd use. Personally, he treated me differently. I guess you have to figure out what works with each individual."
Since graduating from UConn with a Bachelor's Degree in Business Administration, Asjha says she is older and more mature. "I'm able to deal with pressure and expectations a lot better. Coach Auriemma knew how teams would play us or what a team would do to try and stop us. He taught us how to think about different situations which has helped me as a professional."