Kristin Lamb was a Guard for the UConn Huskies from 1986 – 1990. She was Coach Auriemma's first recruit in his first year as Head Women's Basketball Coach at UConn. Kris was Big East Freshman of the Year, a two-year team co-captain, and helped her team win it's first ever Big East Tournament Championship. In March 2010, I had the pleasure of talking to Kris from her office at Longwood University, Farmville, Virginia where she is the head women's basketball coach, about her experiences as both a player and coach.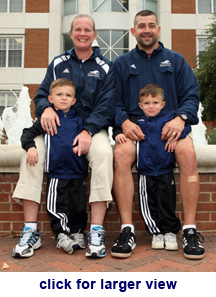 Although Kris started playing sports at the age of 8-softball, she was in middle school before she became interested in basketball through Coach Jerry Puryear at Brooklyn Middle School in Richmond, Virginia. "Coach Puryear saw the talent in me, and told me that I could get a full scholarship to play basketball at college. Once he got involved in my life, college became a goal of mine, and I became very passionate about it."
During the summer prior to her freshman year of high school, Kris went to a basketball camp called 5 Star. The camp was run by Coach Auriemma and Coach Odum (both were assistant coaches at Virginia at the time). Coach Auriemma began recruiting Kris for Virginia. He introduced her to Blue Star Camp, a very competitive camp where only the top 150 high school players in the country are invited. "Going to that camp gave me college exposure because all the college coaches in the country came to recruit." In addition to Coach Auriemma being interested in Kris, so were a lot of other coaches. Thank goodness for these camps she had attended because Kris didn't get much exposure while at Harmenage High School. Her high school basketball team played in the fall season, not winter like most basketball schedules. There weren't a lot of opportunities; they didn't get to work towards state championships because they weren't held in the fall. With the interest of other schools recruiting her, Kris decided to visit a few. She went on recruiting visits to the University of Arizona, James Madison University, University of Virginia and University of Connecticut where Coach Auriemma was now in his first year as head coach. When asked how she decided on UConn Kris said, "Coach! Coach Auriemma, obviously I liked the school, I wanted to play for a really good coach, be a part of a winning program, and at the time UConn wasn't big like it is today."
The transition from high school to college was hardly a factor. "I was a blue collar hard working kid. Coach gave me a summer work out program and I did it. It was my bible." Kris came in as Coach Auriemma's first recruit at UConn, she was in the starting line-up all four years and her junior year was the best. "Coach Auriemma had turned the program around in just three years. In that third year we won our first Big East regular season title, the Big East Tournament Championship, won 20+ games, and I don't think coach has looked back ever since." In her senior year one of the highlights was the opening of Gampel Pavilion. She's in the record books too, as a freshman Kris scored 33 points in one game before there was a three point line. The record has since been tied but not broken after the three point line was added. Another record she holds is the most field goals in one game with 16.
Kris earned her Bachelors Degree in Parks and Recreation and continued her education at UConn earning her Masters Degree in Sports Administration. While earning her masters degree, she became an assistant coach to Coach Auriemma for three years experiencing their first ever trip to a Final Four.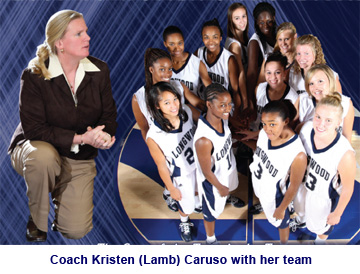 Kris knew that she eventually wanted to become a head coach so she left UConn to become a first assistant at Duquesne University to get more exposure. It was a program that was being rebuilt. While there she helped to bring in better players and the team became better. Then a year back in Connecticut running Coach Auriemma's summer basketball camp, a substitute teacher and junior varsity coach at Manchester High School. Next was Marist College another program to rebuild where she was an assistant for one year and her first head coaching position at the age of 25. "It was a program that was growing, rebuilding that I wanted it done overnight. I stayed there for four years until my mom back in Virginia became sick." Kris took a year off and moved closer to home to be with family. The University of Hartford as an assistant was her next position under Head Coach Jen Rizzotti (former UConn standout). While at Hartford the team record was99 wins and 55 losses with four years of over 20+ win seasons. "We played in the National Collegiate Athletic Association (NCAA) Tournament and won a game. That win was a break through win for Hartford and to be a part of that was awesome." Another great memory for Kris was the atmosphere at Hartford. "It was similar to that at UConn, a staff that worked well together, and we were a very close knit family." After five years, Kris reached her goal of becoming head coach again, now at Longwood University where she has been for the past three years. Her first year was a situation where the program had gone from being a Division II program moving up to a Division I. "That's one of the reasons why the job was appealing to me. I was basically starting from scratch, and I would be able to put everything I had into this program." Her first year was successful winning 16 games with a win at Radford University, the biggest win in school history. The past two years were a little bit rough but Kris is hopeful next year will be a break through year for them. Her immediate goal is to win a lot more games than they lose, and work to get her team into a conference before reaching long term goals of getting into an NCAA Tournament.
When speaking about the differences between being a player and a coach Kris said, "I consider myself a coach's player because I've been there, and done everything I'm asking them to do."
Her thoughts on Coach Auriemma, "He is so good at what he does, and it's not all about basketball. He teaches you how to become an adult through the game, and as a student, academically. You learn to be accountable, and to respect others. His job is to teach you about life not just about the game, and he does it well."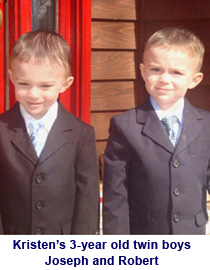 Kris met her husband Joe while she was coaching at the University of Hartford. They have three year old twin sons, Joseph and Robert. The twins like playing both soccer and basketball right now spending lots of time at the gym with her team. The boys love being around her team and it's a mutual relationship, the team loves the twins too.
Kris ended our conversation saying, "A book could be written on the many ways that UConn has had an impact on my life." Through her experiences at UConn as both a player and a coach, is why she has pursued a career in coaching. "I want to help the kids mature and become better adults. After four years of college basketball it's important to have them ready for the rest of their life."