Jessica Moore was a Center for the UConn Huskies from 2000 – 2005. She was a key member of three National Collegiate Athletic Association Championship Teams, established an NCAA women's basketball record with 70 consecutive wins, played in every game of her career (145), and finished her career ranked third all-time in field goal percentage (.584). Jessica was selected 24th in the Women's National Basketball Association Draft in 2005 by the Charlotte Sting and currently plays for the Los Angeles Sparks. I had the pleasure to meet Jessica while her WNBA team was in Connecticut for a game in June 2007.
Jessica enjoyed being a "girly girl", learning ballet and dance before she was introduced to basketball at the age of 10. "My brother was always playing basketball so I decided to try it, and once I tried it, I was hooked. My life became basketball, basketball, basketball."
By the time Jessica reached Colony High School in Palmer, Alaska, she a good all-around athlete. She was on the basketball, track and volleyball teams. The basketball team reached the state finals four times winning the State Championship twice, and the volleyball team also won two State Championships.
Jessica was voted Alaska's Athlete Of The Year her junior and senior high school years. Her most memorable experience from high school was winning her first of two State Championships in 1998. "It was a really, really big deal, we had a great season and you can't imagine anything better than that." During her high school summer breaks, Jessica continued improving her basketball skills. Her high school team traveled to basketball camps in the lower 48 as they referred to the rest of the United States for half of the summer. A coach from an Athletic Amateur Union (AAU) team in Oregon spoke to Jessica's high school coach, inviting her to play for his team during the second half of the summer. This team traveled all around the country, offering her great exposure. During her sophomore, junior and senior summers, she spent half of it with her Alaska team, and half playing, and living in Oregon.
Recruiting letters for both basketball and volleyball started to arrive. "I was a very serious basketball and volleyball player, and had played on club teams for both sports. I really thought about being a dual sport athlete in college but it's very, very difficult with the overlapping of seasons so I decided to focus on basketball." Jessica narrowed her college choices down to four – University of California, Los Angeles (UCLA), Oregon University, University of Connecticut and Ohio State University. She went on a recruiting visit to Oregon, and her second visit was to UConn. While in CT, on her last night, she committed to UConn. "It was really hard for me not to commit to Oregon because I'm actually kind of from there because I played there for so long, but I went to CT, and I just fell in love with how it's like a family. It's a team that's very close. I just loved the atmosphere. I decided if I was to win a National Championship that was the only option – to go to CT."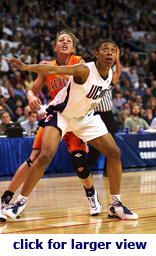 When arriving at UConn, Jessica was prepared for the transition. She had already experienced living away from home, and Coach Auriemma had advised each team member that they were now among a team of All American Players. Coach said, "All of your teammates will be as good as you are, and the pressure to get better, and win games is spread equally on the team." The team was already stacked with post players so Jessica wasn't going to get much playing time as a freshman. She was a medical red shirted player her first year gaining an extra year of eligibility. "It was hard to sit and watch everybody from the sidelines, but everyone was supportive of me. I felt like I was still a part of the team, and the practices, and it was worth it."
While at UConn, Jessica enjoyed winning three National Championships. In her senior year the team lost in the Sweet Sixteen but Jessica has no regrets. "Most kids go through college, and don't make it to the Final Four, and many don't even win their conference. I was able to do that every single year and go to three Final Fours – you can't feel bad about that. I'm totally happy."
One very memorable game for Jessica was when UConn went to Duke for the first time. It was the number one team in the country versus the number two team in the country. There was so much hype and media for that game. UConn was not expected to win but did at the historical Duke gym.
The National Championship win that Jessica considers her most important was her third. The first year they were the National Champions their practices were so tough that it felt like they had never won a single game, and they were able to beat teams by 20 points so winning seemed easy. The second Championship they lost four key players so other teams didn't think they'd be very good and they went under the radar. During the following season they now had a target on their back, and had to bring their A game every night. They endured it winning their third and most difficult National Championship. During the championship game Jessica suffered a torn Anterior Cruciate Ligament (ACL) injury in the second half of the game. She remained in the game finishing with 14 points, and nine rebounds despite the injury that would require surgery. "I haven't yet experienced anything as great as winning that third National Championship was, and I don't think that I ever will because it meant that much to us."
In addition to all of the basketball excitement, Jessica earned her Bachelors Degree in Political Science. Next was the WNBA Draft. She remembered the day of the draft waiting to hear her name called. Jessica was selected number 24 by the WNBA Charlotte Sting. The transition from college to the WNBA was not that big of a deal for Jessica. "Basketball-wise I was very prepared for the practices because Coach Auriemma prepared us. He worked us very hard and playing at CT we were used to an environment of pressure to win. Excluding practices and games your time is your own versus while in college you still have to juggle classes and homework."
Jessica played the first half of her first season with Charlotte who was losing a lot, and needed to make some roster changes. Being the rookie, Jessica was the first to go. Two days later she was picked up by the Los Angeles Sparks where she enjoyed a wining team making it to the WNBA playoffs. Her second year in the WNBA Jessica started for the LA Sparks, and enjoyed a successful season winning the regular season title, and going to the finals in the west coast conference playoffs. "I really like it out in LA. It's a really good fit for me. I'm living my dream. I've always wanted to do this. It's a lot of fun."
During the off season of the WNBA, Jessica goes to Europe to play basketball. Her first year in Europe she and UConn teammate Ashley Battle went together to play in Spain for a team called Universitario de Ferrol. Neither one of them had ever spent much time in Europe; neither knew the language so it was comfortable to go with someone you knew. Her second year in Europe Jessica played in France for Challes Les Eux where her team reached the playoffs, and qualified for the Euro Cup for the following season, which is a goal each team tries to reach.
Jessica's thoughts on Coach Auriemma, "He's a great coach. He really cares about his players and he'll do anything he possibly can to insure not only that you become the best basketball player that you can, but the best person that you possibly can be."
Jessica thinks the 2007 – 2008 Connecticut season will be very special. All team members will be returning. "Hopefully they'll remember what it felt like losing to Louisiana State University (LSU) in Fresno, CA during the NCAA Regional's, how it happened and work hard in the off-season. I really think that they can make it happen – win the National Championship."
Jessica ended our conversation by saying that the most important part of her experience at UConn are the friendships she made, and the advice Coach Auriemma gave to them. "Coach always told us that we should appreciate our experience because it's not going to be the same for the rest of our life. I'm proud to say that AB (Ashley Battle), Morgan, Maria and Diana are my best friends, and they will remain so. I think on a daily basis how special my experience was at UConn, and how special we as a group were."