Shea Ralph was a Guard for the UConn Huskies from 1996 – 2001. Captain of the 2000 National Collegiate Athletic Association Championship Team, Most Valuable Player of the Final Four, Naismith Player of the Year finalist, Big East Player of the Year, and among the top ten leaders in several categories at UConn are a short list of honors that could go on a basketball resume of Shea Ralph. I had the pleasure of talking to Shea in July 2006, about her basketball accomplishments, memories as a player, and as a coach.

Shea grew up in Fayetteville, North Carolina where her mother had been an All-American basketball player at UNC-Chapel Hill North Carolina. When Shea was introduced to basketball at the age of six, she immediately had a passion for the game. "I played every sport known to man when I was younger except soccer but didn't really focus on any of them except basketball." By the time Shea was 11 years old she joined an Athletic Amateur Union team, and knew she was going to try to get a college scholarship for basketball. "I wanted to play for a team where we could win a National Championship, and I wanted to travel, see and experience a lot of things, and get a good education so basketball was going to be my ticket for all of that. These were motivating factors for me."

By the time Shea reached junior high and high school she had already been practicing every single day on basketball fundamentals. "I practiced after school, and after practice. I worked on conditioning, and I was really serious about getting a scholarship."

Although Terry Sanford High School didn't win a state championship they had reached the state finals twice while Shea was there. She has fond memories of her high school career, which includes about 17 personal state records.

The college recruiting process was a little unusual for Shea. Her mom and Tennessee women's basketball coach Pat Summitt are very good friends. Most people assumed Shea was going to play for Tennessee so they didn't seriously recruit her. The University of Connecticut recruited Shea but not until very late in the decision making timeframe. "I was just completely taken by Connecticut as soon as I talked to them on the phone. I made a trip out to see the campus, and meet the team, and I felt so comfortable at CT, and that was it. I knew that CT was the place for me." Although Shea's mother was not mad that she chose UConn over Tennessee, she was somewhat shocked but opted to leave the decision to Shea, and respected Shea's ability to choose and make a good decision.

The transition from high school to college was hard, but Shea welcomed it. Not winning a high school state championship, Shea knew that to win tournaments, and other honors she needed a team of good players to reach those goals. She dreamed of winning her whole life. "I wanted the challenge. I wanted to go in, and compete against the best every day."

There were many special games while at UConn. To name of a few: in 2001 Shea's final game as a collegiate athlete was a game against Notre Dame at Gampel Pavilion in Storrs, CT to win the Big East Championship. Shea had to leave the game during the first half with a knee injury, and Sue Bird stepped up hitting a last second shot to win was special. In 2000 the NCAA Championship game against Tennessee when UConn won, and became the national champions having beat Tennessee by about 20 points was another highlight. "It was a definitive point, the last game of the season, winning the national championship. There was no question we were the best team." There was also the game UConn lost to Tennessee when Shea had been "red shirted" medically ineligible to play because of a knee injury. The team lost, and it was the same day that the medical trainer told Shea she could start practicing the next day with the team. "Coach Auriemma was angry about the loss, and told us that the next practice was going to be the hardest of our lives, and I was thinking 'Oh God this is the first practice in almost a year for me' so I remember that. It was a hard practice but it was so great to be back on the court that it didn't matter how hard the practice was." Another game Shea clearly remembered was a loss in the NCAA Sweet 16 in 1999 to Iowa State. Shea and Svetlana Abrosimova (teammate) played poorly. It left a bitter taste in her mouth that she overcame with summer conditioning, and weight training in preparation for the next season. It was worth it, the next season they won the NCAA tournament.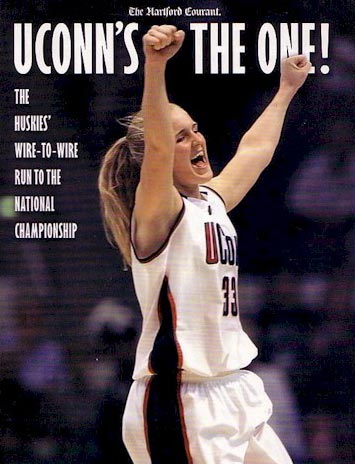 Shea graduated from UConn with a Bachelors Degree in Exercise Physiology. She was drafted in the Women's National Basketball Association by the Utah Starzz but was unable to compete because of a knee injury. After suffering from a torn ACL (Anterior Cruciate Ligament) five times by age 23, she decided it was time to retire from playing basketball and do something else for a career. She began with a job working with Hartford, Connecticut public schools creating athletic programs for inner city kids. After only nine months, her job was eliminated due to state budget cuts. Shea was already missing the game of basketball, and decided to pursue becoming a coach. Within two weeks she was named assistant coach of the Pittsburgh Panthers at the University of Pittsburgh. Shea is about to begin her fourth season there and said, "It is great to be able to impact younger kids, and payback what the game has given to me." For the future, it's too early to commit to a goal of becoming a head coach because she's still learning. "I want to be a great assistant coach before I even say I want to be a head coach."

Shea's thoughts on future final fours for CT basketball – "They will be going to the Final Four regularly in the next few years. They have amazing recruits. They get the best basketball players in the country every year, and it's just a matter of being able to mold together as a team."

Shea was speechless when asked about her thoughts on Coach Auriemma. "There are no words to describe how wonderful he is as a person, a coach, and a family man. He's an amazing teacher of the game. He is able to get the best out of every person using different tactics for each team member. Coach Auriemma has given me a sense of myself, a sense of accomplishment, and who I want to be. Now far removed from his daily practices, every day I'm reminded of things he taught me. Whatever I do, I try to go above and beyond because I know he would expect that of me, and he will always play a part in my life."

She ended our conversation with some very positive thoughts about her college career at UConn. "Those were the best five years of my life. I was taught work ethic, sacrifice, commitment, and teamwork. I learned to become a better player is to put my teammates in front of myself. They are like family to me, and the players I played with are like sisters to me. We were able to do some really special things, and be a part of a lot of special memories in our history, and in the history of CT basketball, and CT as a state which will always be something I cherish."