Ketia Swanier was a Guard for the UConn Huskies from 2004 – 2008. As a senior at UConn she earned the Big East Sixth Man of the Year Award and was the only UConn player in program history to rank among the top ten career leaders in games played (142), assists (479), and steals (247). Ketia was the twelfth overall draft pick in the Women's National Basketball Association (WNBA) Draft in 2008 to the Connecticut Sun.
"As a kid I played several sports/activities, but there was something about basketball. I just loved it." Ketia played on her first team when she was in third grade, but soon moved to Germany (her parents were both in the U.S. Army and were stationed in Germany). She became serious with her basketball interest when she was 11, and played on her first Amateur Athletic Union (AAU) team.
Ketia's best memories from playing basketball as a youngster are the friends she made. By the time she reached high school she was back in the United States and settled in Georgia. Being so far from the friends she made in Germany, she's happy to say she has stayed in contact with many of them even though they all went their separate ways.
Ketia credits the opportunity as a freshman at Columbus High School, Columbus, Georgia, as the turning point of her basketball future. "Playing against a couple of players who were really good at a young age (freshman) made me realize I had a little bit of game to me, and that basketball could be a part of my future." While in high school Ketia earned many honors; three-time Georgia AAAA All-State First Team, four-time Metro Player of the Year, and her senior year she was Georgia AAAA Player of the Year.
"The college recruiting process was a growing and learning experience." When Ketia came to UConn for her visit she liked the environment. The people she met were great, and she had a good feeling about it. "It was one of those gut instincts. I loved it, so I chose UConn." Although she enjoyed the recruiting process Ketia said that it wasn't easy notifying the colleges who spent time building relationships with her recruiting her that she had decided not to go to their school. They may have been good programs, just not for her.
When Ketia arrived at UConn, the transition from high school to college was hard. She found there to be a big gap between high school and college regarding the level of competition. Ketia worked very hard each year, continuing to get better, maintaining a positive attitude.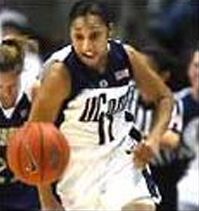 While at UConn Ketia earned a reputation as one of the fastest guards in the nation with the ability to change the speed of the game on both ends of the court, which was due to her exceptional quickness. Among her most memorable moments in a UConn uniform was as a senior a game against DePaul University. "I hit the winning shot. I'll never forget that. A time out was called and coach drew up the play for me, and told me I was going to make the shot, and I did."
Another memorable experience at UConn was as a senior having enjoyed the opportunity to be in a National Collegiate Athletic Association (NCAA) Final Four. "Quite a big deal was made of it because if we didn't make it, we would have been the first UConn class in sixteen years not to have made it to a Final Four."
Ketia was selected twelfth in the 2008 WNBA Draft to the Connecticut Sun where she just finished her rookie season. The transition to the WNBA happened fast. Training camp began, and Ketia had to return to UConn for graduation. "You've got to grow up quick but I've enjoyed being with the Connecticut Sun. I feel blessed to be a part of a team where everyone gets along so well."
Ketia's thoughts on Coach Auriemma, "He's a perfectionist, anything less he won't accept. He knows what each player is capable of doing, and is hard on you if you're not meeting his expectations of you."
Ketia believes the current UConn team will be great this coming season.
Reflecting on her experience at UConn Ketia said, "As a freshman it was a rebuilding year (Diana Taurasi had just left). Each year we got closer to our goal. We weren't able to achieve winning our ultimate goal, but the things we did should put the pieces in place for the next group to win a National Championship."