Barbara Turner was a Forward for the UConn Huskies from 2002 – 2006. While at UConn she was a member of two National Collegiate Athletic Association (NCAA) Championship Teams in 2003 and 2004. She ranks 9th on UConn's all-time scoring list with 1,629 points, 10th all-time in rebounding, and the fifth player in school history to tally 1,600 points and 700 rebounds in her career. Barbara was the 11th draft pick in the Women's National Basketball Association (WNBA) Draft in 2006 to the Seattle Storm, and is currently playing for the Connecticut Sun.
Barbara began playing basketball when she was around seven years old in the back yard with her brother Cameron. Although she didn't like it at first, as she got better she started to like it more and more. "I remember when I first started learning how to play, my brother used to beat me, and I used to cry a lot but I knew it was because I was competitive, and wanted to win. When the tide turned, and I started winning, my brother stopped wanting to play the game with me."
By the time Barbara was in eighth grade, high schools began recruiting her, and that's when she knew that if she kept working hard she'd have the opportunity to be recruited for college. During her freshman year at East Technical High School, Barbara's team made it to the semifinals of the state championship. It was during her senior year that they were able to win the state championship. "I was ecstatic. I still remember that win to this day." When Barbara was playing on an Athletic Amateur Union (AAU) team at the age of fifteen she saw a Connecticut coach at one of her games for the first time. "I remember being really, really excited and playing great. When I got back from that tournament, I got my first letter from the University of Connecticut." During her senior year of high school Barbara was named a 2002 First Team All-American by USA Today, Women's Basketball Coaches Association, and Parade Magazine. She was also Gatorade Ohio Player of the Year, and Ms. Ohio Basketball.
Barbara knew that during high school she trained with great people, and worked hard but when she arrived at UConn she had no idea how difficult it would become. It was all worth it and she has many great memories. The first big game they won on the road that was televised against North Carolina State was one fond memory along with winning her first Big East Championship regular season title, Big East Tournament Championship, and winning the National Collegiate Athletic Association Championship her freshman year. It was her final home game of her career that was the most memorable. "My most memorable moment at UConn was walking out on the court on senior night, knowing I completed another chapter in my life that I had set out to complete. I had accomplished goals of playing for a top university, and to earn a college degree."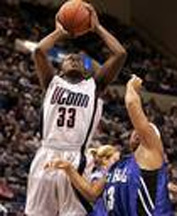 Barbara was drafted #11 in the Women's National Basketball Association Draft in 2006 by the Seattle Storm where she was one of four Storm players to appear in all 34 games, and ranked fourth among WNBA rookies in field goal percentage at .447. In 2007 she was signed as a free agent by the Houston Comets, and averaged 4.2 points, and 1.9 rebounds in 12 minutes per game. In 2008 she was traded to the Connecticut Sun where she feels relaxed and happy to be playing basketball. It's with the Sun, after one year, that Barbara has enjoyed her best professional year yet.
For the future, Barbara has a few goals she's working toward. "I want to win a WNBA Championship so I can have a championship on every level, and I also want to play in the Olympics, a dream that I'm not going to give up."
Barbara's thoughts on Coach Auriemma, "He was tough but he is the reason I'm still able to be in the position I am today."
Regarding the current UConn team Barbara said, "I think the current UConn team is the same in the sense that they are really good, and I believe every UConn women's basketball team will be one of the top five teams in the country every year."
Reflecting on her experience at UConn Barbara said, "Coach Auriemma prepared me for what I would face in the real world. I've faced much adversity, and I've been successful because of the adversity I was able to experience at Connecticut. I appreciate everything I learned while at the University of Connecticut because I wouldn't be where I am today without the help of Coach Auriemma, and my experience at UConn."