Tamika (Williams) Raymond was a Forward for the UConn Huskies from 1998 – 2002. While at UConn she was a member of two National Collegiate Athletic Association (NCAA) Championship Teams in 2000 and 2002, UConn's 19th 1,000 point scorer, and finished as Connecticut's all-time leader in goal percentage at 70.3%. Tamika was selected 6th in the Women's National Basketball Association (WNBA) Draft in 2002 by the Minnesota Lynx, and is currently playing for the Connecticut Sun.
Tamika was introduced to basketball as a youngster by her brother Mike, and sister Tanzania who were seven and 10 years older, and were already playing basketball in high school and college. Her brother went to Miami of Ohio University, and her sister went to Bowling Green State University. Going to their games watching them play and win, Tamika really got to know, and like the sport of basketball.
While playing on her Athletic Amateur Union (AAU) team –Dayton Lady Hoops Stars, Tamika enjoyed winning two AAU Championships while also meeting Sue Bird (teammate at UConn) on an opposing team, and beating Sue's team to win the championship.
It was during the summer between her freshman and sophomore years at Chaminade-Julien High School that Tamika really began to play basketball well, and realized she would be able to play at the college level. During high school her teams lost in the state championship game to Pinkerton, a team that was very good with all players on Pinkerton's team going on to play at Division I colleges. While in high school Tamika was named High School Player of the Year by Street and Smith, Naismith, USA Today and Parade, and was the third UConn player to be named National Player of the Year by USA Today. Tamika was ranked number 1 in the nation by Blue Star Index among scholastic recruits and she set a school record at Chaminade-Julien in scoring with 2,015 points.
When she arrived at UConn it was a tough transition. "I think all of us, every day we came home we wanted to quit. You have to raise your game, and give it your all every moment of every day." While at UConn Tamika enjoyed many highlights.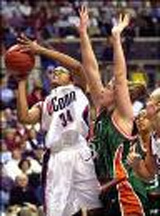 As a freshman she earned Rookie of the Year Honors. As a sophomore she was named Most Outstanding Performer of the 2000 Big East Tournament, and won her first National Championship. In her junior year she became the 19th player in school history to score 1,000 points. As a senior she received Associated Press All-America Honorable Mention, and was a Naismith Player of the year candidate. Tamika's greatest memory while at UConn was as a senior winning her second National Championship with the team going undefeated with 35 wins. "We all went back to our room and kind of stared at each other. We wanted to practice, we wanted more games, and we four seniors knew we'd soon be going to play in four different places in the world, and that was probably the scariest thought."
While at UConn Tamika was a dean's list student. She also served as the president of the Student-Athlete Advisory Committee, and earned her Bachelor's Degree in Communications.
The Women's National Basketball Association Draft came and Tamika was picked #6 by the Minnesota Lynx where she played for six years. Some highlights from playing with the Lynx were leading the team in rebounds per game, breaking the WNBA single-season record for field goals accuracy, scoring 1,000 career points, and 1,000 rebounds. In 2008 she was traded to the Connecticut Sun.
During the off season of the WNBA, Tamika has been busy. During 2002 she served as a graduate assistant for the Ohio State Buckeyes women's basketball team, and in 2003 she became an assistant coach where she remained as an assistant for five seasons. In May 2008 Tamika was named assistant women's basketball coach at Kansas University for the Jayhawks. "As an assistant coach I see more. When I first graduated from college I only knew my position, and everything that affected my position as a Forward. Now I also look at things from a point guard's perspective."
Tamika's thoughts on Coach Auriemma, "There are certain things in life that once you get it, you've got it. I think he's one of those coaches that have it. He can rotate players in and out, and the situation doesn't change the chemistry on the court works with his way of rotating."
Regarding the current team Tamika said, "I think the team is highly talented. They've just got to find that one little edge to push through."
Reflecting on her experience at UConn, she said, "The things the coaching staff at UConn taught us, you kind of take for granted while you're there from dressing, being professional to going to class, and being on time to giving 110% in the workforce which I try to pass along to the kids I coach." In her time since UConn she said, "Life is great, getting married, playing in the WNBA, and coaching have all been great, and all of those things can be attributed to my playing for the University of Connecticut."