Kevin Freeman was a Forward for the UConn Huskies from 1996 – 2000. He's a member of the UConn Basketball All-Century Team, and he played on UConn's first ever National Collegiate Athletic Association (NCAA) Championship Team in 1999. Kevin was named the Most Outstanding Player in the Big East Tournament, and was a member of the NCAA West Regional All-Tournament Team in 1999. Kevin ranks number one in career games played at UConn with 140. I had the opportunity to talk to Kevin in August 2010, about his basketball memories and experiences.
Born in Springfield, Massachusetts Kevin learned to love the game of basketball by watching Dr. J. (Julius Erving a great basketball player in the 1970's and 1980's) and Michael Jordan (a great basketball player in the 1980's and 1990's) on television. He went to Paterson Catholic High School in New Jersey (a well know school for basketball recruits), where he helped his team to win three state championships. Kevin also played on an Amateur Athletic Union (AAU) team. "It was probably the greatest AAU team ever, with teammates Kobe Bryant (LA Lakers), Vince Carter (Phoenix Suns), Tim Thomas (currently not playing) and RIP (former UConn star Richard Hamilton and currently playing for the Detroit Pistons). We won two AAU Tournament Championships, and that's probably my biggest memory from my time before UConn."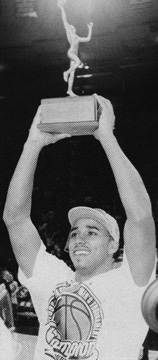 When making his college decision he had narrowed his list to Duke, UCLA, Boston College and UConn. "My mom lives in Springfield, Massachusetts, and my dad lived in New Jersey so it was a nice medium for both of them with me being right here in Connecticut. It was also a good situation here (UConn) for me because Ray (Allen) had just left so it was a good fit, I thought, where I'd get playing time." Regarding the transition from high school to college Kevin said, "It was difficult but I think we had a great coaching staff at that point, and we had a lot of sophomores and seniors on the team to help we freshmen."
"At UConn my best memory was helping to win UConn's first ever NCAA Championship. Individually, winning the MVP at the Big East Tournament in 1999 was my most memorable moment." Other accomplishments of Kevin's while at UConn include being one of only two players in school history with over 1400 points and more than 900 rebounds. He left UConn ranking number thirteen on career scoring list with 1,476, and number four in career free throws made with 422.
I recently talked to Wayne Norman (WTIC 1080 UConn Radio analyst) about Kevin Freeman and Wayne had some great memories of Kevin. "One of my favorite memories of Kevin was the fast break hoop he had in the 1999 Final Four semifinal against Ohio State. Khalid El-Amin made a behind the back pass to Kevin." A very important accomplishment, "Kevin's fifteen rebounds versus Gonzaga (nine offensive boards) in the Elite Eight game in 1999 stands out as one of the most amazing games by an individual I have seen." Another of Wayne's memories of Kevin, "He passed out from exhaustion after the RIP (Richard) Hamilton buzzer beater to beat Washington in the 1998 NCAA's." A lasting memory, "His tears after his last game – 2000 NCAA second round loss to Tennessee when Khalid El-Amin was out with his ankle injury."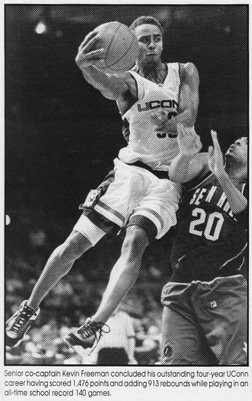 After four years at UConn Kevin was drafted by the New Jersey Nets in the United States Basketball League in 2000 but was waived by the Nets during the preseason cut. He played for the Sioux Falls Skyforce in the Connecticut Basketball Associaton for a year then moved on to play professional basketball in Europe. "The transition from college to playing in Europe was very tough, but you want to earn a living so that's what I did, and it was difficult getting used to the different cultures too."
Kevin has been playing in Italy, Australia, Spain and Greece for the past eleven years. In 2006 he took a season off and came back to UConn to finish earning his Bachelors Degree in Political Science. After getting his degree Kevin went back to Europe to play. "I'm still going to play for maybe another two seasons then I'll be done." This season he is playing in Venezuela.
Kevin is married and was approaching his first anniversary when I spoke to him. He and his wife Nicole met during his college years but she was from nearby Eastern Connecticut State University.
Kevin ended our conversation with some positive thoughts about Coach Calhoun. "He's been a great role model, a father like figure to me. Coach Calhoun is a great leader, and always available to help you. He's taught me how to be a great teammate, and a good person. I've learned the importance of thinking about a collective group, not worrying about only myself, and how to win as a whole."